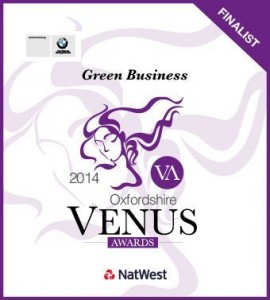 Today is a very proud day for Wild to Wonderful – we have reached the final of the Oxfordshire Venus Awards in the Green Business category.  In a glittering awards ceremony this evening, we will find out if we have won the title for this year's award.
Whether we win or not, we are absolutely thrilled to have been nominated and recognised for our efforts to be an ethical and environmentally friendly business.

As well as the obviously green nature of our core business, we have always strived to be green in an environmental sense too in all we do, including: using recycled and peat-free products; reusing as many items (including plants and materials) as we can; choosing plants and materials that are in keeping with the local area; reducing our travel miles and waste; and advising our customers on how best to create sustainable gardens that are havens for wildlife, whilst still being beautiful gardens at the same time.
We believe very strongly that by making changes, however small, to how we operate and how we respect the environment in which we all live, it will ultimately make a better world for all of us. And we love that we are able to help our customers do this in a very practical way too.