(4th blog in a series of 4)
Cathy to revisit in Spring 2014 to review progress and to advise accordingly
This is the final stage of the four blog/gardening project to change my pond area. Cathy and I set out to transform what was a dank and dreary pond area into a vibrant, colourful and seasonal area that would be attractive all year round.
As readers of this blog will know, we stripped out the old heathers and weeds and planted the pond area with new heathers, sedums, hebes and spring bulbs. We then left the pond area to Mother Nature to do her work. Our plan was to return in March to bring you up to date on the finished project. However, Mother Nature had more than just winter up its sleeve. The floods came which meant that spring was somewhat waterlogged – and delayed. The net result is that we are in mid-April and – in my garden anyway – spring has only just arrived!
As I explained in the first of this series, our family life revolves around the dining room table. Everything happens there; family meals, socialising, playing, homework. Every time we glanced out of the window to the garden pond, our hearts sank. I'm happy to say that my project with Cathy has put paid to all that! We now have a pond surrounded by tete-a-tetes, tulips, sedums, heather, grasses and crocosmia and a programme of colours and plants to alternate with the changing seasons. Delightful.
Cathy's Visit
With the pond area at last reflecting spring, Cathy reviewed the pond and gave me some maintenance advice. Together, we had created a low maintenance/high impact planting scheme which meant that, going forward, there wasn't much work for me to do in order to keep the pond area lively, weed-free and eye-catching…
Irises – Cut back leaves when they die back and keep corms on top of soil

Sedums – Cut old stems off to new growth

Aquilegia – Break off flower stems

Tulips/Daffodils – Cut back flower stems once unsightly. Keep leaves as long as possible

Heather – 'Haircut' after flowering to remove dead flowerheads. Foliage can remain

Grasses – When danger of frost has passed, cut down all foliage to approx. 3" from ground level and remove dead

Hebes – After flowering, gentle trim to remove dead flowers. Next spring, cut back stems to new shoots

Crocosmia – New sword-like shoots will appear/remove any old growth

Fuschias – Cut back in spring 6" approx. from ground level (unless need taller)

Spiraea – Trim off flowerheads after flowering (optional). Next spring, cut back as Hebe in spring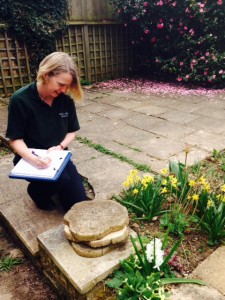 As one of Cathy's clients, this has been a truly 'Wild to Wonderful' experience. The garden pond area has been transformed and I have learned a lot about gardening in the process.
It has been lovely to work alongside a professional when it comes to something as personal as my own garden.
Thanks, Cathy! I have loved every minute of it.