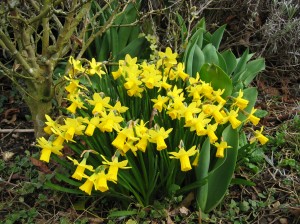 When it comes to gardening, patience is everything and there's certainly a large element of trust involved at this time of year especially….

Many people assume that after summer, things are calming down in the gardening world, in fact nothing could be further from the truth!  With the cooler & damper weather, its now the ideal time for planting new plants into your borders and the perfect opportunity to split existing perennials to create larger displays of your favourite plants in the garden…as well as being the key time for planting spring flowering bulbs.
Mostly when we do work for our customers, you can see instant results – a design plan, a new patio, a tidier garden or new shrubs & trees.  But there are times when we are planting died back perennials with no visible growth above ground, that just look like pots of soil.  And as for bulbs, the customer often has no clue where we have planted them until they come up next spring!
Occasionally we see our customers looking at the bare patches in their borders wondering exactly what we have done for them, especially if they haven't been there during our visit to see the bulbs being planted.  All we can do is reassure them, knowing that come spring or summer, they will be rewarded with the fruits of our labours.  And good things come to those who wait, especially in gardening!!